Indigenous Peoples as a vulnerable group to various misleading development plans has become a discussion among multilevel stakeholders worldwide. There is a need to build a consensus for the Indigenous Peoples to be recognised, protected, and included in the mainstream development plan in Indonesia.
Through generations of appropriate traditional knowledge handed down from their ancestors, Indigenous Peoples have greatly contributed to the preservation of biodiversity as well as sustainable natural resources management in both terrestrial and marine ecosystems.
As they make up only 5% of the world population, Indigenous Peoples are currently fragile to social-economic development, ranging from issues of poverty, human rights, cultural degradation, up to climate change impacts.
They are a group of people who are traditionally settled in certain geographical areas within the Unitary State of the Republic of Indonesia with strong ties to their ancestral domains, the land, territories, and natural resources. The MHA are implied as customary governmental institutions and utilise customary legal arrangements in their customary territories in accordance with statutory regulations.
The MHA are made up of those who live on land or in the forest, and those who live at the coastal and small island areas. For the coastal MHA, they have privileges to be protected and recognised under the Indonesian Law No. 1/2014 and Ministry of Marine Affairs and Fisheries Decree No. 8 /2018.
However, the Orang Laut or Sea People, who employ a nomadic life on water areas have been excluded from this protection. This is because the Orang Laut do not have land-based territories as required from those policies related to coastal MHA.
Therefore, they became a marginalised group, unrecognised by the local government's policies and programmes, and thus occupy a peripheral role in conservation.
According to Sopher (1965) and Chou (1997), Orang Laut are scattered across the Southeast Coast of Sumatra, Riau Islands in Indonesia.
There are various exonyms of Orang Laut which were influenced by the dominant Malay group in their location.
In Riau Islands Province, they are called Orang Suku Laut, Orang Mantang, or Orang Sampan
In Riau, Jambi, and Bangka Belitung Province, they are Orang Duano, Suku Akit, Orang Kuala, Orang Sawang Sekah, or Orang Ameng Sewang
Orang Laut also reside in Peninsular Malaysia, the Tanintharyi Province of Myanmar, and the Southern part of Thailand.
In Malaysia, they are the Orang Seletar, Orang Kuala, or Orang Laut
In Myanmar, they are known as Moken
In Thailand, they are Uraik Lawoi, Moklen and Moken
Orang Laut language is named after them and it is closely related to the dialect of the Malay Language, which is part of the Austronesian languages. Only some words might be different. According to Sopher (1965) and Anderbeck (2012), there are four categories of Orang Laut dialect in Malay namely Kedah, Riau Islands, Duano and Sekak.
The biggest population of Orang Laut in Indonesia is located in the Riau Islands Province. As an archipelagic province with 2498 islands, Riau Islands is one of the gates of Indonesian economic zone because of the strategic location in the Malacca Strait.
In this province, Orang Laut can be found in the setting of sedentary groups, semi-nomadic groups and nomadic groups. The last nomadic group of Orang Laut is found in this province, especially in the Lingga Regency.
Other regencies, such as Bintan, Karimun, Batam, and Anambas islands only have the sedentary Orang Laut group, which have been relocated by the government to land-based houses since the 1990s until today.
The total population of Orang Laut is 12,800 people and 44 locations as estimated by Kajang Foundation. Their locations in the Riau Islands Province are shown in the figure below.
During the 18th century, they were enlisted as servants to help the Sultan protect the sea areas from the sultanate rivals and the colonials. However, there is no appropriate history that might explain the relationship between these Sea People groups in Southeast Asia.
In Indonesia, aristocrat Malays claim purity as the pure, ancient Malay, hence sovereignty over the Malay World (Chou, 2003). Some of them do not recognise the Orang Laut as Malay people, which is a common occurrence in almost every Orang Laut area, for instance in the Lingga Regency, Riau Island Province. Thus, the identity of Orang Laut as one of the ancient Malay people has been degraded over time (Ariando, 2019).
Furthermore, religious issues and misleading development plans have been impacting Orang Laut's livelihood. Orang Laut is presently a vulnerable socio-economic group, which experiences poverty, human rights abuses, and environmental threats. They face struggles in fighting for indigeneity, ownership, ancestral domains, and rights to the area where they live.
Kajang Foundation contends that social protection and formal recognition of their traditional ecological knowledge are necessary for the Orang Laut as they are losing their cultural identity.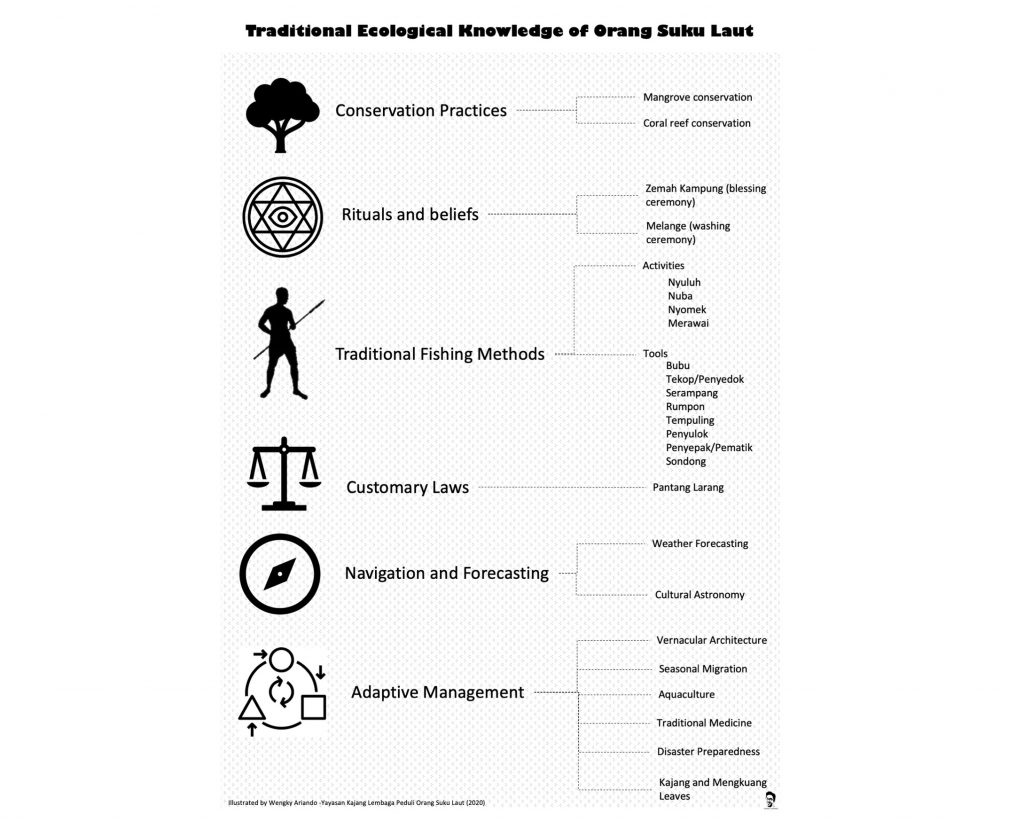 The Traditional Ecological Knowledge (TEK) of Orang Laut consists of conservation practices, rituals and beliefs, traditional fishing methods, customary laws, navigation and forecasting and adaptive management, as shown below.
As documented by Kajang Foundation scholars who had conducted research on the Orang Laut, their findings showed that the TEK of Orang Laut has decreased by time.
It is caused by declining practices of cultural beliefs such as rituals and spells, as most of them have converted to new religions (Islam or Christianity). Moreover, youth migration has become a serious issue in the Orang Laut society, whereby young people will leave their village for economic reasons and then hide their identity as Orang Laut in their new lives.
The young people asserted that they are not proud to be Orang Laut because of the social stigma that puts them as undeveloped and uneducated people, as well as being viewed as the lowest class in the Malay World by local islanders.
In addition to that, the current government policies do not pay much attention to TEK, along with the state of Indigenous peoples relating to social, economic and political issues at all levels.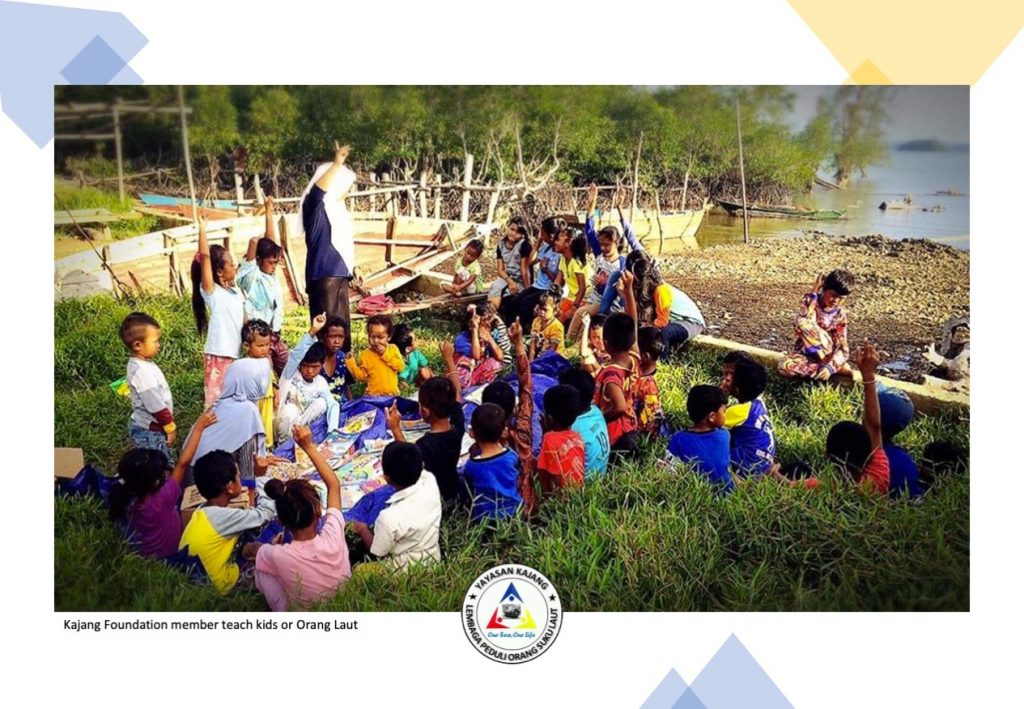 Kajang Foundation: Positionality and Experiences
Kelana Laut or Sea Wanderer is the term that people commonly call the Orang Laut. They are the true explorers of the sea and uphold the identity of Indonesia as an archipelagic country. Although their lives lack in many aspects, they are self-sufficient based on their capacity.
Kajang Foundation is the only grassroots organisation that amplifies the rights of Orang Laut in Riau Islands Province and has been identifying rigorous problems with the marginalised Kelana Laut.
The foundation was established in 2014 as a literacy movement for Orang Laut in Penaah Village, Senayang Sub-District, Lingga Regency, Riau Islands Province. In 2018, this movement is registered as a social foundation that works not only in educational issues but also social protection, culture and history, and environmental issues.
Since 2019, Kajang Foundation has been focused on the cultural identity issues of Orang Laut. The foundation endeavors to raise the awareness of non-Orang Laut community and local government in order to protect the cultural identity of Orang Laut through formal recognition and regulation.
We aim to give back the self-determination of Orang Laut in managing their culture and livelihood based on their local knowledge and customary laws. As an ambitious plan, this regulation must prioritise Orang Laut's social equity in development plans.
Besides that, Kajang Foundation encourages many scholars to work with them in finding the specific issues about Orang Laut such as gender, conservation, climate change and education-related issues.
We hope that these findings will drive the recognition and better livelihood of Orang Laut. At the present moment, Kajang Foundation is solely working in the Lingga Regency, with the possibility to expand the working areas.
Ultimately, Kajang Foundation is committed to assisting the Orang Laut. This is because it is highly possible that their culture and identity will continue to decline without this assistance.
As an asset of Indonesia's cultural diversity, Kelana Laut must be able to survive in its worst conditions. Although the foundation does not yet have reliable management and economic stability, collaborative programs are one of the major missions targeted by the Kajang Foundation moving forward. After all, the obstacle currently faced by the foundation is the lack of human resources who care about the issues of Orang Laut.
---
Wengky Ariando is an Indonesian Sea Nomads researcher. His research interests are maritime anthropology, climate change adaptation, and sustainable resource management. He had experiences researching Orang Suku Laut in Riau Islands Province for his master's degree and Bajau in Wakatobi, South East Sulawesi Province for his current doctoral degree. Since 2018, he joined as a volunteer at Kajang Foundation (Yayasan Kajang), a grassroots organisation that amplifies the rights of Orang Laut in Riau Islands Province. His works in Kajang Foundation are mostly related to research and development for Orang Suku Laut